The Food Photography + Styling Guides are delivered in a series of easy-to-follow modules, each consisting of a few guides focused around a different aspect of food photography or styling.
The modules are set out so that each one presents you with enough information to give you a sound understanding of the key concepts, without overwhelming you. The guides within each module are made up of a combination of text, images and videos to best deliver the material in a way that is informative, descriptive and useful.
Module 1 is designed to guide you through all the things you need to know before getting started. It goes through different types of props and shooting surfaces – how to source them, how to choose which ones go with your style and see how they effect the end look of your image. There is also a section on equipment which includes a buying guide for DSLR cameras, including the most important features to look for in a DSLR for food photography.
Module 2 will take you through the main settings in a DSLR camera, teaching you how to master using your camera in manual mode, from learning about lighting and the exposure triangle, and other key settings.
It also walks through the main camera angles used in food photography.
Module 3 tackles the concept of lighting, which is one of the key make-or-break factors in food photography. You'll learn how to recognise different types of lighting, and how to work with and manipulate light. You'll also be shown how to recognise light in your own home and choose where to shoot, and how to create a basic photography set-up in this space.
In Module 4 you will start to experiment a little more with food styling. We'll work through some key styling concepts to help you gain a better understanding of which styles you are drawn to, to help you discover your own style. We'll also go through how to style an individual dish, and how to set up and compose a whole scene.
Module 5 draws upon concepts discussed in previous modules to tie everything together, and present some more advanced styling and photography techniques.
We also discusses the importance of story-telling through food, and this can be emulated in your photography.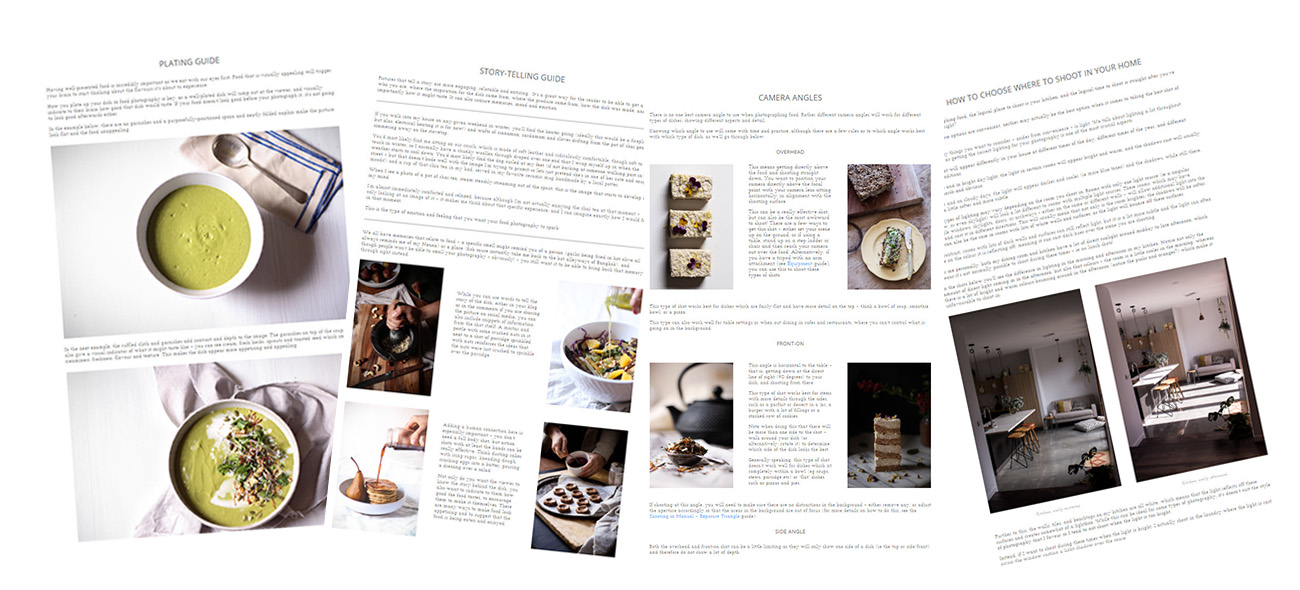 Upon joining, you will receive access to all five styling + photography modules.
To get the most out of the course, it is recommended that you work through them in chronological order, completing each guide before moving onto the next one.
As you have lifetime access to the Guides, you will be able to refer back to them at any point.
*Note that access will be ongoing unless advised otherwise, in which case members will be given the content in a downloadable format. Please refer to the Terms & Conditions for full details.
JOIN NOW
$429 AUD one-off payment
(approx. USD $315 | £246 | €276)
* * * *
Access to all Styling + Photography Guides
Access to exclusive Facebook group
Lifetime membership
I cannot tell you how incredibly valuable this course was for me. As someone who's had no formal training or education in photography, you've not only given me a solid foundation of the essentials of food photography and styling that I desperately needed but also tools and guidance that will continue to support me as my skills improve.
Although this course is online and self-paced, it was interactive and engaging all the way through. For someone who admittedly was not very enthusiastic about photography at the start, I have to say your beautiful, playful, and professional photo and video "How-To's" won me over. What could have been dense and dry content, you made an absolute pleasure to read, watch, and learn about. Thank you Dearna!
I loved the content in this course and learned an incredible amount. All of the skills are transferable to any type of still photography – not just food! Since the brain process images 60,000 times faster that text, being able to capture beautiful imagery is truly an invaluable asset to anyone creating original photographic content in the online space.
I found these guides so inspiring! As an amateur food photographer, the guides helped me to advance on what I knew already and to experiment with new techniques. From using shadow boards to editing in Lightroom,everything in the guides is relevant and useful, I would recommend them to anyone wanting to get into food photography/styling or to advance their existing skills .
JOIN NOW
$429 AUD one-off payment
(approx. USD $315 | £246 | €276)
* * * *
Access to all Styling + Photography Guides
Access to exclusive Facebook group
Lifetime membership
What equipment do I need?
At a minimum, it is recommended that you have a DSLR or mirrorless camera and lens. The Guides will talk through other equipment you might wish to purchase if and when you feel ready too, with budget-friendly and DIY options included as well.
Do I need Lightroom or Photoshop?
The Styling + Photography guides do not cover photo editing, and therefore you will not need any photo editing software specifically for these guides. if this is what you are interested in photo editing, tis is covered comprehensively in the Editing Guides.
Can I get feedback on the photos I've taken?
Feedback is currently available via the private Facebook group, however personal one-on-one feedback for individual photos is not currently available yet – this is coming though!
Are there any guides on artificial lighting?
At this stage, there is no guide on artificial lighting.
I personally prefer to shoot exclusively in natural lighting and prefer this look… Further to this, the guides are primarily aimed at entry-level photographers and therefore most of the guides are set up so that you don't need to buy any expensive additional equipment, which includes any lighting.
I have no photography experience, are the Guides for me?
Yes! The Guides are aimed at those with a beginner/intermediate level skills in photography and styling.
The first module walks through the basics of what you need to know to get started, before introducing you to key photography and styling techniques, with photos and videos used to clearly demonstrate throughout.
Is it worth purchasing if I only have an iPhone?
Maybe. While some of the content is relevant to general photography and styling, there are three guides focused solely on how to use manual settings on a DSRL, and how to get certain "looks" using these settings, which simply can't be reproduced using a smartphone.
That said, there is a lot of content in the Guides which can be applied regardless of your camera, including most of the Styling guides, as well as some of the general photography guides. If you are thinking of upgrading to a DSLR soon, then you will definitely find value in the Guides, and there is also a DSLR buying guide in the Equipment guide which outlines the main camera features which are beneficial for food photoraphy.
How long does it take to complete each module?
The time it takes to complete the modules varies depending on the person and the module…  I would recommend spending a minimum of 2 – 3 hours per module, which includes reading the guides, watching the videos, doing all of the exercises, and participating in the Facebook group discussions. The first module you will probably get through the quickest, whereas the later ones which have more techniques and exercises might take a little longer.
As with most things, you will get out what you put in, so the more time you can spend doing the exercises and practising the techniques in each guide, the better 🙂